Faith & Values
Our Vision as a Church of England School
Jesus is Immanuel – God with us
"Immanuel and St Andrew Church of England School, established upon Christian foundations, and living out the Christian faith, is committed to
"Excellence for all – Excellence for all."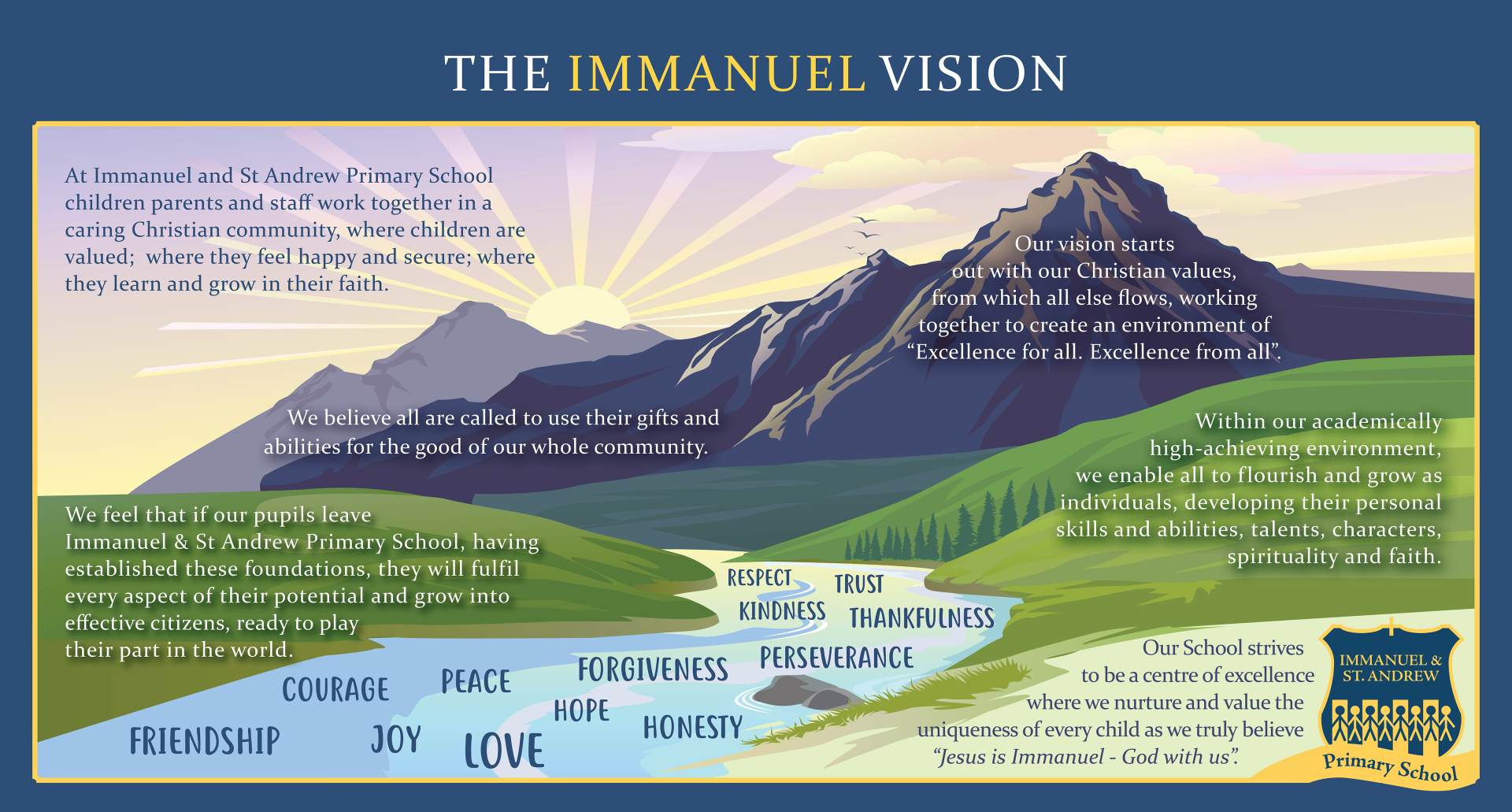 Our vision for Immanuel & St Andrew Primary School is that children, parents and staff work together in a caring Christian community, where children are valued; where they feel happy and secure; where they learn and grow in their faith.
Our vision starts out with our Christian values, from which all else flows, working together to create an environment of "Excellence for all. Excellence from all".
Within our academically high-achieving environment, we enable all to flourish and grow as individuals, developing their personal skills and abilities, talents, characters, spirituality and faith.
We believe all are called to use these gifts and abilities for the good of our whole community.
Our School strives to be a centre of excellence where we nurture and value the uniqueness of every child as we truly believe "Jesus is Immanuel - God with us".
We feel that if our pupils leave Immanuel & St Andrew Primary School, having established these foundations, they will fulfil every aspect of their potential and grow into effective citizens, ready to play their part in the world.
All of this is achieved through our Motto:
"Jesus is Immanuel – God with us"
"The vision of the school flows through every aspect of school life to the extent that pupils see their flourishing as the norm. The nurturing of the whole child is deliberate and enhances pupils' lives beyond school."
SIAMS, December 2019
The Biblical Roots of our School Vision
Our school vision is has deeply embedded biblical roots at the heart of our foundation. We believe that every person has their own role to play in helping to create a peaceful and just society and we encourage our pupils, staff and parents to recognise and give thanks for their own individual gifts and talents. By having self-belief, each person can use their gifts and talents to help themselves and the whole society flourish. As stated in the document, "The Fruit of the Spirit: A Church of England Discussion Paper on Character Education,
"We see the ultimate purpose of education as the promotion of "life in all its fullness." Education is about more than just producing increasingly efficient economic units: it is about developing people who can flourish in all areas of their lives. Character education is essential to this."
Our School Motto: "Jesus is Immanuel – God with us."
"Immanuel – God with us" is the Immanuel and St Andrew School motto that underpins the school values and mission statement. This truth is central to the core belief of the school community and extends beyond. The name Immanuel first originates in the Hebrew language in the Old Testament book of Isaiah (7:14) where it is prophesied that "The virgin will be with child and will give birth to a son, and will call him Immanuel." This verse is transliterated into the Greek language (Ε?μμανουη?λ) in the New Testament book of Matthew (1:23), "The virgin will be with child and will give birth to a son, and they will call him Immanuel" – which means, "God with us." The prophecy highlights Jesus as the chosen one to represent God's presence with us. He fulfils prophecy by saving people from their sin and brings us the hope of salvation. Immanuel and St Andrew has a diverse, multi-faith and non-faith community. The school choses to explore the truth of "God with us" to show God's love to all.
St Andrew
With St Andrew as part of our school name, his role is powerful and evocative as we encourage our children to develop their key learning skills of readiness and resourcefulness, zeal and effort, collaboration and cooperation, perseverance and determination. Skills we are sure St Andrew embodied during his life as a fisherman and follower of Jesus. St Andrew is an incredible example of humility and devotion to God. On several occasions throughout his life he had the option of taking the easier road and yet consistently chose to take the harder road for him which he believed would bear more fruit for God.
Our Mission: Excellence for all. Excellence from all.
As God is present with us and gave us His best, we offer up our lives as an offering to him and giving Him our best through excellence to the glory of His name. We are committed to a standard of excellence at Immanuel from all members of our school community.
"Character education equips young people to grow in wisdom, hope, community and dignity and is shaped by an understanding of God at work in the world, present and active in shaping each individual's developmental story. It is fundamental to the pursuit of academic excellence, and stands at the heart of all aspirational teaching, learning and pastoral care." (Leadership of Character Education, CEFL)
Our School Logo:
"… take up your shield of faith." Ephesians 6
Our current school logo has evolved and changed over the years. At the top of the shield you will notice a small cross at the centre of our logo as it represents the cross as the centre of our faith and always in our gaze.
The figures in our logo represent the equality nurtured within our Immanuel family as our message is that the good news of Jesus is for everyone. We are committed to inclusivity with the value of love being recognised as our most important school value. We encourage all to "… love your neighbour as yourself" and to recognise that all are made in the image of God. We serve a diverse community and to capture the meaning of inclusivity we refer to the metaphor "warm fires and open doors" which comes from a speech made by David Thomson, Bishop of Huntingdon.
"By Warm Fires I mean a vibrant and attractive sense of our Christian identity, and by Open Doors I mean a real welcome to anyone and everyone to gather around the fire."
Our school's colours signify faith (blue) and Jesus as the light of the world (yellow). We encourage our children to be lights shining out to the world, to reach out and help others and to have faith in God.
"We have hope, faith and trust in God as we stand equal and united in our quest for excellence."
Our School Values
At Immanuel and St Andrew Primary School we believe in the key Christian values of Love, Respect, Perseverance, Peace, Forgiveness, Kindness, Thankfulness, Honesty, Trust, Courage, Hope, Joy and Friendship. We encourage our children to adopt these values and to leave the world a better place because of what they themselves will be able to contribute.
The Rivers of Immanuel
"And he shall be like a tree planted by the rivers of water, that bringeth forth his fruit in his season; his leaf also shall not wither; and whatsoever he doeth shall prosper." Psalm 1:3
The physical environment at Immanuel has the image of a river running all the way through it, starting in the Nursery and ending up at a tree outside our Year 6 classes. The metaphor of a river is a strong and powerful one at Immanuel as it has its roots embedded in the bible. It is a metaphor for learning and a symbol of change and progress whilst also reflecting our international identity and outlook.
"Then the angel showed me the river of the water of life, as clear as crystal, flowing from the throne of God …" Revelations 22:1
A Metaphor for Learning
A river is a symbol of progress. It can start small on its course as it moves through mountains and waterfalls until it joins the sea. Just as our pupils start small and then leave us to join a bigger community. Learning can sometimes be a tricky journey, just as we must sometimes travel against the tide and travel upstream, we encourage resilience and build character with "God with us" along the way.
"When you pass through the waters, I will be with you: and through the rivers, they shall not overwhelm you …" Isaiah 43:2
Our International Community
Our community is wonderfully diverse and international. We recognise that we are global citizens who must play our part in the world and have a responsibility to look after the people of this world as well as the environment that we inhabit. Rivers evolve and affect the environment around them – schools do too. With such a strong theme of rivers within the school, we have a strong commitment to nurturing our environment and sustainability.